Wil je
uitbreiden
door een mp3tje af te spelen via wifi, of je Robot RD2geluiden laten maken? Ik ben heel erg te spreken over de esp32 bordjes daarom heb ik even vandaag uitgezocht, hoe je er geluid uit krijgt met de
TTGO-display
. Dit heb ik snel in elkaar
geprutst (video)
. Voor de arduino raad ik aan
deze
te gebruiken.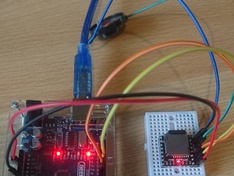 Als basis dient de dfplayer mini.
€1.32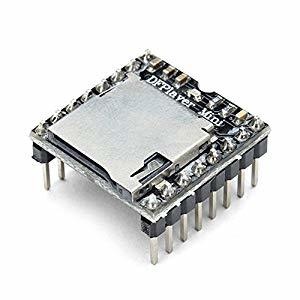 Daarbij heb je nog een geheugenkaart nodig. Ik zelf heb de Kingston Canvas 64GB
gebruikt.
. Maar je kan natuurlijk ook een andere gebruiken.
Daarnaast heb je nog een
speaker
nodig. Mocht je er geen hebben, kijk eens in een oude pc. Daar vind je een betere dan in de link. Uiteindelijk komt het er zo uit te zien als je een passieve speaker gebruikt.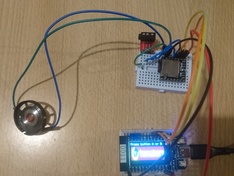 .
Optioneel kun je nog de jackplug nog
gebruiken.
. Ik heb nog een mobiel speakertje liggen met batterij en jackplug stekkertje, vandaar deze bestelling.
.
Aansluitschema
Je kunt kiezen voor de speaker, of de mini-jack of zelfs allebei.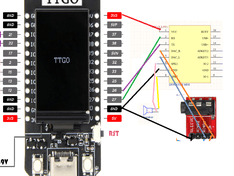 Geheugenkaart voorbereiden
Maak een mapje
mp3
aan op de (lege)geheugenkaart.
Zet daarin de liedjes met de naam: 0001.mp3, 0002.mp3 etc
Code
Onderstaande code zal 2 geluiden afspelen. Het beeld wordt niet
aangestuurd
. De mp3 speler heb ik in de software op pin 26 en 27 gezet. Mag je aanpassen.Eerst moet je de 2 librarys aanvinken in Arduino.
espsoftwareserial library
DFPlayer_Mini_Mp3_by_Makuna library
code:
1
2
3
4
5
6
7
8
9
10
11
12
13
14
15
16
17
18
19
20
21
22
23
24
25
26
27
28
29
30
31
32
33
34
35
36
37
38
39
40
41
42
43
44
45
46
47
48
49
50
51
52
53
54
55
56
57
58
59
60
61
62
63
64
65
66
67
68
69
70
71
72
73
74
75
76
77
78
79
80
81
82
83
84
85
86
87
88
89
90
91
92
93
94
95
96
97
98
99
100
101
102
103
104
105
106
107
108
109
110
111
112
113
114
115
116
117
118
119
120
121
122
123
124
125
126
127
128
129
130
131
132


// this example will play a track and then 
// every five seconds play another track
//
// it expects the sd card to contain these two files
// but doesn't care whats in them
//
// sd:/mp3/0001.mp3
// sd:/mp3/0002.mp3


#include <SoftwareSerial.h> //espsoftwareserial library
#include <DFMiniMp3.h>      //DFPlayer_Mini_Mp3_by_Makuna library

// implement a notification class,
// its member methods will get called 
//
class Mp3Notify
{
public:
  static void OnError(uint16_t errorCode)
  {
    // see DfMp3_Error for code meaning
    Serial.println();
    Serial.print("Com Error ");
    Serial.println(errorCode);
  }

  static void OnPlayFinished(uint16_t globalTrack)
  {
    Serial.println();
    Serial.print("Play finished for #");
    Serial.println(globalTrack);   
  }

  static void OnCardOnline(uint16_t code)
  {
    Serial.println();
    Serial.print("Card online ");
    Serial.println(code);     
  }

  static void OnUsbOnline(uint16_t code)
  {
    Serial.println();
    Serial.print("USB Disk online ");
    Serial.println(code);     
  }

  static void OnCardInserted(uint16_t code)
  {
    Serial.println();
    Serial.print("Card inserted ");
    Serial.println(code); 
  }

  static void OnUsbInserted(uint16_t code)
  {
    Serial.println();
    Serial.print("USB Disk inserted ");
    Serial.println(code); 
  }

  static void OnCardRemoved(uint16_t code)
  {
    Serial.println();
    Serial.print("Card removed ");
    Serial.println(code);  
  }

  static void OnUsbRemoved(uint16_t code)
  {
    Serial.println();
    Serial.print("USB Disk removed ");
    Serial.println(code);  
  }
};

// instance a DFMiniMp3 object, 
// defined with the above notification class and the hardware serial class
//
//DFMiniMp3<HardwareSerial, Mp3Notify> mp3(Serial1);

// Some arduino boards only have one hardware serial port, so a software serial port is needed instead.
// comment out the above definition and uncomment these lines
SoftwareSerial secondarySerial(26, 27); // RX, TX
DFMiniMp3<SoftwareSerial, Mp3Notify> mp3(secondarySerial);

void setup() 
{
  Serial.begin(115200);

  Serial.println("initializing...");
  
  mp3.begin();

  uint16_t volume = mp3.getVolume();
  Serial.print("volume ");
  Serial.println(volume);
  mp3.setVolume(24);
  
  uint16_t count = mp3.getTotalTrackCount();
  Serial.print("files ");
  Serial.println(count);
  
  Serial.println("starting...");
}

void waitMilliseconds(uint16_t msWait)
{
  uint32_t start = millis();
  
  while ((millis() - start) < msWait)
  {
    // calling mp3.loop() periodically allows for notifications 
    // to be handled without interrupts
    mp3.loop(); 
    delay(1);
  }
}

void loop() 
{
  Serial.println("track 1"); 
  mp3.playMp3FolderTrack(1);  // sd:/mp3/0001.mp3
  
  waitMilliseconds(5000);
  
  Serial.println("track 2"); 
  mp3.playMp3FolderTrack(2); // sd:/mp3/0002.mp3
    
  waitMilliseconds(5000); 
}